Elizabeth Marshall Thomas has spent a lifetime observing other creatures and other cultures from her own backyard to the African Savannah. Her books have transported millions into the hidden lives of animals. She's chronicled the daily lives of African tribes, and even imagined the lives of prehistoric humans. Now, she opens the doors to her own.
Dreaming of Lions traces Thomas's life from her earliest days, including when, as a young woman in the 1950s, her family left for the  Kalahari Desert to study the Bushmen….Read More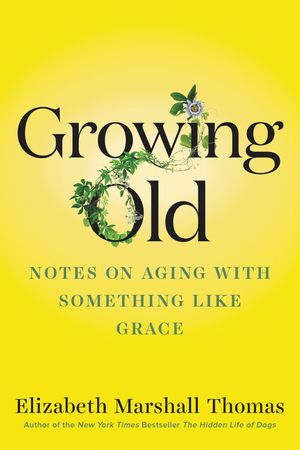 Publication: April 28, 2020
Harper One
Growing Old
Notes on aging with something like grace
by Elizabeth Marshall Thomas
Octogenarian Marshall Thomas tackles old age in this clever and astute memoir…Marshall Thomas is an inspiring example of a life well lived, and her sense of humor, honesty, and curiosity will resonate."
—Publisher's Weekly, STARRED review
About the Book
From the revered author of the bestselling The Hidden Life of Dogs, a witty, engaging, life-affirming account of the joy, strength, and wisdom that comes with age.
Elizabeth Marshall Thomas has spent a lifetime observing the natural world, chronicling the customs of pre-contact hunter-gatherers and the secret lives of deer and dogs. In this book, the capstone of her long career, Thomas, now eighty-eight, turns her keen eye to her own life.