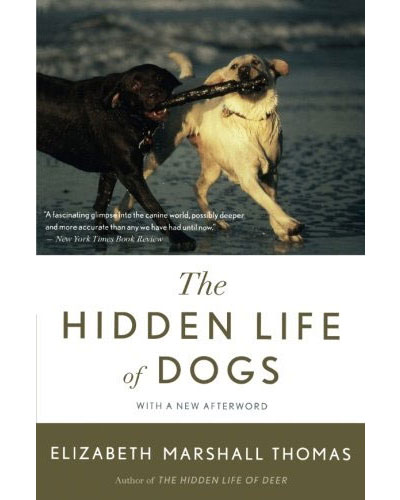 ISBN-13:
9780547416854
Publisher: Houghton Mifflin Harcourt
Publication date: 09/10/2010
Pages: 168
Product dimensions: 5.30 x 7.9 x 0.7 inches
Amazon
Barnes & Noble
Better World Books
Indie Bound
Toadstool Bookshops
The Hidden Life of Dogs
In this fascinating account, based on thirty years of living with and observing dogs, we meet Misha, a friend's husky, whom Thomas followed on his daily rounds of more than 130 square miles, and who ultimately provided the simple and surprising answer to the question What do dogs want most? Not food, not sex, but other dogs. We also meet Maria, who adored Misha, bore his puppies, and clearly mourned when he moved away; the brave pug Bingo and his little wife, Violet; the dingo Viva; and the remaining dogs and pups that constitute the pack.
Thomas's multifaceted discussion of canine life was a 28-week PW bestseller.
Copyright 1995 Reed Business Information, Inc. –This text refers to an out of print or unavailable edition of this title. –From Publishers Weekly
Novelist/ethologist Thomas may be well known to readers for her novels Reindeer Moon (LJ 1/87) and The Animal Wife ( LJ 7/90). This work, however, takes a much different tack in that it provides a readable account of how, over a a span of years, her family dogs were transformed into a family unit not unlike a wolf pack. Thomas is a firm believer that animals think and express emotion and is not ashamed to be "anthropomorphic" in her particular analysis of dog behavior. Her intention is to find out, by observing her own animals, what it is that dogs "want." The dogs were free to make their own decisions; Thomas fed them, sheltered them, and provided medical care but otherwise didn't train them or direct their activities. The observations she makes are entertaining and amusing to anyone who has owned a dog. Her conclusion is that dogs want each other, and people are merely substitutes for other canines. Although Thomas draws on her knowledge of philosophy and the theory of animal consciousness, this book never bogs down in theory and remains very readable. A title worth considering for libraries where there is client interest.
– Edell Marie Schaefer, Brookfield P.L., Wis.
Copyright 1993 Reed Business Information, Inc. –This text refers to an out of print or unavailable edition of this title.-From Library Journal
[expand title="Show More"]An astonishing work of ethology that asks–and answers clearly–a question about dogs that's so simple that, apparently, no one has ever tackled it before: "What do dogs want?" Thomas–a trained scientist and novelist who brings her storytelling skills (The Animal Wife, 1990, etc.) fully to bear in this beautifully written study–explains that, years ago, she realized that "despite a vast array of publications on dogs, virtually nobody…had ever bothered to ask what dogs do when left to themselves." And so she set out to ask just that, first by unobtrusively bicycling along with a two-year-old husky, Misha, as the dog went about its daily roamings in the Cambridge, Massachusetts, area. Thomas's findings about Misha and ten other dogs (including a dingo) that followed him into her life– supplemented by her fieldwork with wolves–cause this report to be about "dog consciousness" as, through an elegant recap of her observations, the author convinces us that dogs can, among other skills, create customs; adopt human mannerisms; choose between alternatives; play games; and exhibit a moral sense (this made clear through the amazing incident in which a tiny pug stops a much larger dog from terrorizing some pet parakeets and mice). Just as impressively, Thomas depicts–without anthropomorphizing–a dog world bound by rules like hierarchism but one nonetheless in which each canine is a complex individual. Particularly fascinating is her account of the "romantic love" between Misha and his mate, Maria, in which the female remains monogamous even while in heat, as well Thomas's story of how her dogs, left wholly to their own devices, secretly dig a wolflike den behind a woodpile. What, then, do dogs want? "They want to belong, and they want each other." Popular science of the highest order: revelatory, impeccably observed, and a joy to read. A four-woof salute to Thomas and a vigorous tail-wag to boot. (Drawings–not seen) — Copyright ©1993, Kirkus Associates, LP. All rights reserved. –This text refers to an out of print or unavailable edition of this title. -From Kirkus Reviews
[/expand]
I began observing dogs by accident. While friends spent six months in Europe, I took care of their husky, Misha. An agreeable two-year old Siberian with long, thin legs and short, thick hair, Misha could jump most fences and travel freely. He jumped our fence the day I took him in. A law requiring that dogs be leashed was in effect in our home city of Cambridge, Massachusetts, and also in most of the surrounding communities. As Misha violated the law I would receive complaints about him, and with the help of these complaints, some from more than six miles distant, I soon was able to establish that he had developed a home range of approximately 130 square miles. This proved to be merely a preliminary home range, which later he expanded considerably, but interestingly enough, even young Misha's first range was much larger than the ranges of homeless dogs reported in Baltimore by the behavioral scientist Alan Beck. Beck's urban strays had established tiny ranges of but 0.1 to 0.06 square mile. In contrast, Misha's range more closely resembled the 200- to 500-square-mile territories roamed by wolves, most notably the wolves reported by Adolph Murie in "The Wolves of Mount McKinley" and by L. David Mech in "The Wolves of Isle Royale." What was Misha doing?  
[expand title="Show More"]
Obviously, something unusual. Here was a dog who, despite his youth, could navigate flawlessly, finding his way to and from all corners of the city by day and by night. Here was a dog who could evade dangerous traffic and escape the dog officers and the dognappers who at the time supplied the flourishing laboratories of Cambridge with experimental animals. Here was a dog who never fell through the ice on the Charles River, a dog who never touched the poison baits set out by certain citizens for raccoons and other trash-marauders, a dog who never was mauled by other dogs. Misha always came back from his journeys feeling fine, ready for a light meal and a rest before going out again. How did he do it?
For a while I looked for the answer in journals and books, availing myself o the fine libraries at Harvard and reading everything I could about dogs to see if somewhere the light of science had penetrated this corner of dark. But I found nothing. Despite a vast array of publications on dogs, virtually nobody, neither scientist nor layman, had ever bothered to ask what dogs do when left to themselves. The few studies of free-ranging dogs concerned feral dogs, abandoned or homeless dogs. Alone in hostile settings, these forsaken creatures were surely under terrible stress. After all, they were not living under conditions that were natural to them, any more than are wild animals in captivity, imprisoned in laboratories and zoos. How might dogs conduct themselves if left undisturbed in normal circumstances? No one, apparently, had ever asked.[/expand]