A Million Years with You
A Memoir of Life Observed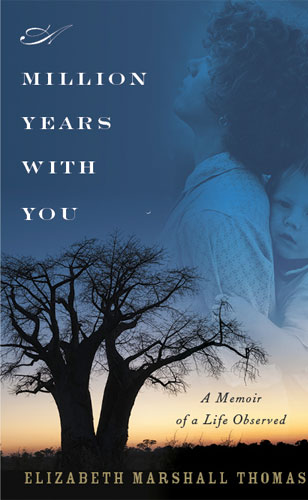 ISBN-13: 9780547763958
Publisher: Houghton Mifflin Harcourt
Publication date: 06/11/2013
Pages: 285
Product dimensions: 6.36(w) x 9.14(h) x 1.01(d)
Amazon
Barnes & Noble
Better World Books
Indie Bound
Toadstool Bookshops
A Million Years With You
A Memoir of Life Observed
How is it that an untrained, self-taught observer and writer could see things that professional anthropologists often missed? How is that a pioneering woman, working in male-dominated fields, without sponsors or credentials, could accomplish more than so many more celebrated and professionally educated men could manage? How can we all unlock the wisdom of the world simply by paying close attention?
With their intelligence and acute insight into other cultures and species, Elizabeth Marshall Thomas's many books have won a wide and loving audience. In A Million Years with You, this legendary author shares stories from her life, showing how a formative experience in South West Africa (now Namibia) in the 1950s taught her how to pay attention to the ancient wisdom of animals and humankind.
"This memoir by naturalist Thomas (The Hidden Life of Dogs) is at once lofty and personal, mundane and impressive. What ultimately holds the book together are her powers of observation and particular experiences: extensive travels; encounters with the animal world; the love and loss of family; struggles with alcohol; and her writing life. Though Thomas allows her memories to wander nonchronologically, the end result feels thoughtful. The heart of the book centers on Thomas's multiple trips to Africa, including her first, formative trip to the Kalahari Desert with her family when she was in college. She later returned to Africa on assignment for the New Yorker and found herself in Uganda during the horrific rise of Idi Ami, an experience so terrifying that it halted her writing and escalated her alcohol consumption. A chapter paying tribute to Thomas's parents is the high point of the book. The book describes the author's loss of her beloved parents, nearly fatal accidents involving both her children, and her experience of the terrible bloodshed in Africa, but Thomas follows her own advice to "live in the moment," realizing, "if nothing bad is actually in progress, most moments are quite pleasant." (June)
— Publishers Weekly
"Thoughtful"
— Publishers Weekly
[expand title="Show More"]"Elizabeth Marshall Thomas's affirming, finely-observed memoir recounts a life in the process of being fully and unapologetically lived; a gift from someone with an endlessly curious mind and more than eight decades on the planet. But perhaps the greatest gift of A Million Years with You is Marshall Thomas's signal talent: it leaves the reader feeling far less alone in the world, and much more deeply connected to it."
— Alexandra Fuller, author of Cocktail Hour under the Tree of Forgetfulness
"It would be a gross understatement to say that A Million Years with You is a stunning book. Thomas is confronted by Idi Amin in Uganda; she digs roots with women gatherers in the Kalahari. In Ibadan, Nigeria, she witnesses tribal violence, religious sacrifice, and resistance to western medicine. She is a keen observer of lions, hyenas, and wild wolves. All this is interwoven with her own personal history to form a memoir of extraordinary power."
— Maxine Kumin, author of Where I Live, and former U.S. Poet Laureate
"Elizabeth Marshall Thomas writes with all her sense of a lifelong love affair with our planet and its astonishing life. She is a meticulous observer of human diversity and the hidden ways of animals, responding with empathy and reminding us to look with wonder."
— Mary Catherine Bateson, author of Composing a Further Life: The Age of Active Wisdom
"Fortunately for readers, her keen observation, attentive and inquisitive nature, and thoughtful, unvarnished writing grace numerous books devoted to sharing what she has seen. This time she turns to a fascinating subject: herself."
— Concord Monitor
"Esteemed literary naturalist Marshall Thomas, who's charmed us with books like The Social Lives of Dogs and The Hidden Life of Deer, here tells the story of her own life."
— Library Journal [/expand]
Kalahari

What I learned from the woods, from dogs and cats, and from visits with Gran to the museum was enthralling. It set me on a lifelong journey. But it was something like reading the first page of a book without reading the rest, or even knowing that the rest existed. From the farm I knew about farm animals, and I was often taken to the zoo as well as to the museum, so I knew what wild animals looked like. I'd also seen how dogs and cats managed their lives, and had glimpses of how wild animals managed. But our human world was overwhelming. People had all the power and made all the decisions. With their indifference to anything nonhuman, the world was at their mercy. So as I saw it, there were two spheres of existence—the one I lived in, which was the sphere of people, and the one I barely knew, which was the sphere of everything else, from amoebas to blue whales, from duckweed to giant sequoias, from the floor of the Mariana Trench [expand title="Show More"]to the summit of Everest. Every living thing in that second sphere belonged to what I've come to call the Old Way, keeping the old rules that evolution set out for each species, the rules that helped us stay alive and move our genes into the future. The Old Way put us here, although we no longer respect that. But in the summer of 1951, when I was eighteen, I was extremely fortunate to learn something about the Old Way and that second sphere, the sphere of everything else. It isn't often that a person can point to a single decision and say, "This one made all the difference," but I know I would not be who I am had my dad not made this decision. He decided that we would go to Africa. I was a college freshman at the time. If metaphor can describe my learning experiences, college was a slowly dripping faucet and Africa was the thundering Victoria Falls.
[/expand]