Growing Old
Notes on Aging with Something Like Grace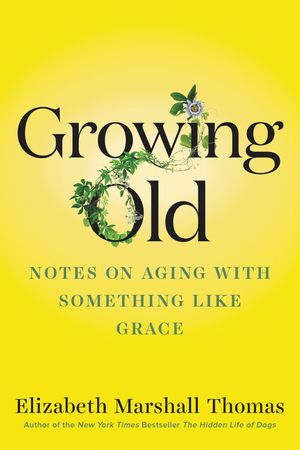 ISBN: 9780062956439
ISBN 10: 0062956434
Publisher: Harper One
Publication date: 04/28/2020
Pages: 224
Product dimensions: 5.50(w) x 8.25(h) x .81(d)
Growing Old
Notes on Aging with Something Like Grace
From the revered author of the bestselling The Hidden Life of Dogs, a witty, engaging, life-affirming account of the joy, strength, and wisdom that comes with age.
Elizabeth Marshall Thomas has spent a lifetime observing the natural world, chronicling the customs of pre-contact hunter-gatherers and the secret lives of deer and dogs. In this book, the capstone of her long career, Thomas, now eighty-eight, turns her keen eye to her own life. The result is an account of growing old that is at once funny and charming and intimate and profound, both a memoir and a life-affirming map all of us may follow to embrace our later years with grace and dignity.
A charmingly intimate account and a broad look at the social and historical traditions related to aging, Growing Old explores a wide range of issues connected with growing older, from stereotypes of the elderly as burdensome to the methods of burial humans have used throughout history to how to deal with a concerned neighbor who assumes you're buying cat food to eat for dinner.
Written with the wit of Nora Ephron's I Feel Bad About My Neck and the lyrical beauty and serene wisdom of When Breath Becomes Air, Growing Old is an expansive and deeply personal paean to the beauty and the brevity of life that offers understanding for everyone, regardless of age.
Octogenarian Marshall Thomas tackles old age in this clever and astute memoir…Marshall Thomas is an inspiring example of a life well lived, and her sense of humor, honesty, and curiosity will resonate." – Publisher's Weekly, STARRED review
"Written by one of our most distinguished observers of human and animal behavior who has now decided to observe herself, this book is a witty, wise, frank, and ultimately comforting look–from the inside out–at the universal experience of growing old."
— Dale Peterson, author of Jane Goodall: The Woman Who Redefined Man and The Ghosts of Gombe
"This is a true gift. Elizabeth has trekked the Arctic Circle and lived with the Bushmen—not your typical human. Yet, she shares how time catches up with us all. Her unexpectedly delightful book made me realize the good decisions my grandparents made, and think about how I should should approach my own future. A unique look at a universal process that we need not fear—and might come to relish."
— Dr. Mark W. Moffett, anthropologist-explorer and author of The Human Swarm: How Our Societies Arise, Thrive, and Fall