Certain Poor Shepherds
A Christmas Tale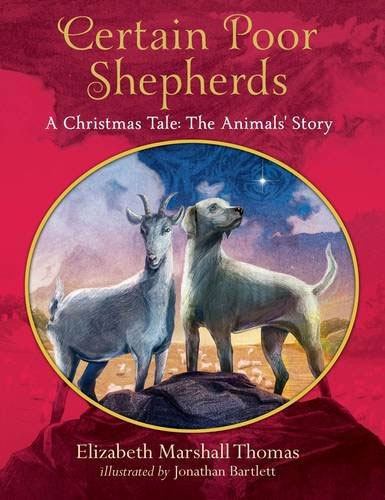 ISBN-13: 978-0684844589
Publisher: Simon & Schuster
Publication date: 11/05/1997
Pages: 128
Product dimensions: 7.1 x 5.1 x 0.4 inches
Amazon
Barnes & Noble
Indie Bound
Toadstool Bookshops
Certain Poor Shepherds
A Christmas Tale

The story begins on a cold upland pasture where coarse grass and scrub cedar grew. The hour was midnight. The day was the first of winter. And the year of our Lord was not 1900 or 1600 or even 100. It was 0. On that night a white goat, Ima, and a huge, gray short-haired sheepdog, Lila, were keeping watch over a small flock of young sheep.
Bright and dazzling, a star appears behind the cedars on the eastern skyline. It is big and powerful, and it has a pure, clean scent, like something halfway between honey and water. Lila, the sheepdog, and Ima, the goat, are compelled to follow the star on a journey to a humble manger in Bethlehem, a journey beset with danger, adventure, and love. In a story alive with insight and grace, best-selling author Elizabeth Marshall Thomas brings us a striking portrait of the Nativity story from the captivating point of the view of the animal kingdom.
The prose is simple and elegant. Harsh elements are balanced by tenderness and gentle humor, and there is an uplifting ending for the dual protagonists. An affecting, well-spun tale that will especially resonate with animal lovers. —Kirkus Reviews
Praise for CERTAIN POOR SHEPHERDS: America's foremost explainer of animal feelings and thoughts has woven fur and scent into the Christmas story, with amusing, moving results." –John Updike
Not a typical Christmas story of a peaceful, silent night, but themes of friendship and duty shine through. —School Library Journal
Marshall applies her knowledge of the animal world (The Secret Life of Dogs) and her fictional skills (Reindeer Moon) to a rich re imagining of the Nativity story. Her pilgrims are a wise goat named Ima and a huge warrior sheepdog , Lila. [expand title="Show More"] They are on the mountain guarding a herd of sheep when the star appears, and they immediately sense divinity in the air. Later, they see a flock of angels invisible to their master. Struck by inspiration, they follow the star to Bethlehem, where Lila witnesses the scene at the manger. Many other animals appear in the narrative; camels, a cheetah, other dogs, a gazelle;giving Marshall an opportunity to represent natural creatures interacting and cherishing their freedom, which to animals is a form of grace. After Ima and Lila experience several dangerous adventures, an uplifting ending, in which they are rewarded by an angel whom Ima had saved from an eagle, probably will elicit some happy tears. The deliberately simple but well-honed prose makes this story suitable for family reading, and Marshall's attribution of human thoughts and emotions to her animal characters should delight sentimentalists. But the epilogue, in which Marshall muses that "perhaps our hope of redemption lies in the fact that we are animals, not that we are people," will not make this book a favorite of fundamentalist Christians. Simultaneous audio. —From Publishers Weekly [/expand]

Gr 4–6—Rather than the expected humans and their crooks, the certain poor shepherds of this story are Ima and Lila, a goat and dog, respectively. Ima, the nurturer, tends to the flock by guiding them to safe paths and finding the good plants for grazing. Lila's large size makes her the ideal herder and protector from predators. [expand title="Show More"]Both share lonely, melancholy pasts of being separated from their own families, as well as a powerful urge to follow a host of angels that arrive with a scent emitted from a star that appears in the sky. The rest of the Nativity serves more as a plot point, as Ima and Lila meet some harrowing adventures on their journey to Bethlehem with the flock in tow: from encounters with angels, who are portrayed less as divine and celestial and more as winged beings prone to hunger and sickness, to dealings with the caravan of the Three Kings, one of whom travels with huntsmen. Illustrations, similar in style to that of printed prayer cards, appropriately capture the story's tone. VERDICT Not a typical Christmas story of a peaceful, silent night, but themes of friendship and duty shine through. —Joanna Fabicon, Los Angeles Public Library [/expand]
"On the first Christmas, so say the Christians, a redeemer was born to save our kind from the consequences of our greed, waste, pride, cruelty, and arrogance. No redeemer appeared for the animals; however, none was needed. The animals were much the same then as they are now, just as God made them, perfect according to his plan…" So begins this resonant tale by one of our most gifted storytellers and most perceptive animal watchers, Elizabeth Marshall Thomas. When an unusual star appears on the horizon one clear winter night, among those drawn to its bright promise are two shepherds – a dog named Lila and Ima, a goat. Therein lies an adventure, and Thomas's departure from the familiar story treasured by generations. With their flock, the animals journey to Bethlehem and home again, witnesses to a redemption of which they have no need. Yet as they make their way, encountering danger and opportunity, their journey becomes an extraordinary meditation, moving but unsentimental, on the nature of freedom and the state of natural grace in a world ruled by the power – and frailty – of humankind.